2016 will surely go down as one of the more memorable years in wrestling. So much happened that it's easy to forget that certain awesome things actually occurred, and for every moment that sucked (here's looking at you WrestleMania) there were moments like AJ Styles' WWE debut and Wrestle Kingdom 10 and Goldberg crushing Lesnar and the Cruiserweight Classic and Will Ospreay winning Best of the Super Juniors and more and more and more.
So whilst I could talk forever about anything and everything that pro-wrestling had to offer last year, I am here today to focus on those called up from NXT to the main roster of WWE. Some have had success and some have had a much harsher reality check following their release from the nest of mother Regal and papa HHH. I'll be giving each act a rating based on their performance since moving up and what they have achieved compared to what was expected of them before they transitioned away from the yellow brand.
These are just my personal thoughts and feelings on each of them so take everything with a pinch of salt and feel free to roast me like a Christmas ham on Twitter should you disagree.
Alexa Bliss – Debuted 26th July
When Alexa debuted on the main roster I could not have possibly predicted that she would be the Smackdown women's champion coming into 2017. With Becky Lynch, Natalya and Nikki Bella to compete with I feared she would get lost amongst the pack of wolves, biding her time until much later in her WWE career.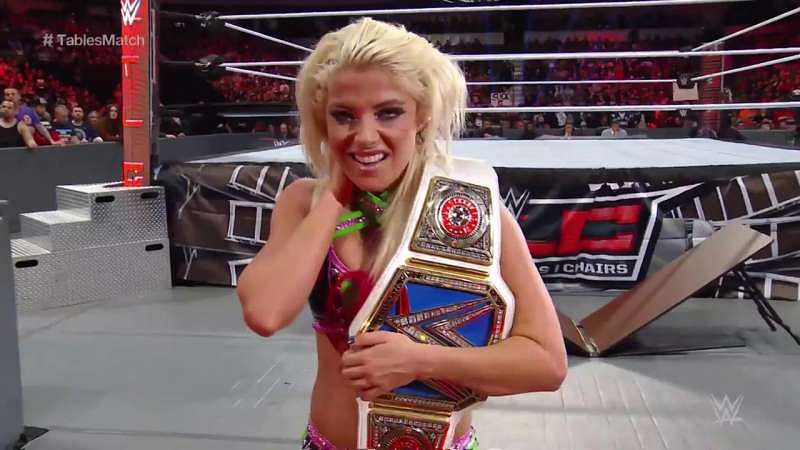 But lo and behold the little minx has smashed it and is the proud holder of the Smackdown women's title. Her matches have left a little to be desired as she is clearly still developing her in-ring skills but she can talk like the best of them and her promos against Becky Lynch have been a real highlight of Tuesday night programming. Plus, her expressions often breach the border into ridiculous, which I am a huge fan of, she goes from pleased to
furious in a matter of seconds just by shifting her face.
If she can refine her wrestling she could be the perfect package as it is so rare to find someone who can run their mouth so well, hopefully when the time comes to turn face she can be equally as damning on the mic and doesn't lose her edge. Overall, an astronomically good main roster beginning for Bliss especially given the fact that she never held the NXT women's championship, more power to her!
Rating: A-
American Alpha (Chad Gable & Jason Jordan) – Debuted 2nd August
Ending the year atop the Smackdown tag team tree is exactly what these boys deserved, they are simply wonderful wrestlers who ooze charisma and WWE are cashing in on them at just the right time. After a blistering set of matches The Revival they graduated to Tuesday night's show as part of the draft, much like Alexa Bliss.
It was a slower start for them than many would have liked; they got chopped down by the Usos and were forced to build themselves back up, but their story of redemption has been wonderfully fulfilled. After coming close multiple times Jordan and Gable finally achieved their newest goal and claimed the Smackdown tag championships from the Wyatt Family after a tremendous 4-way match.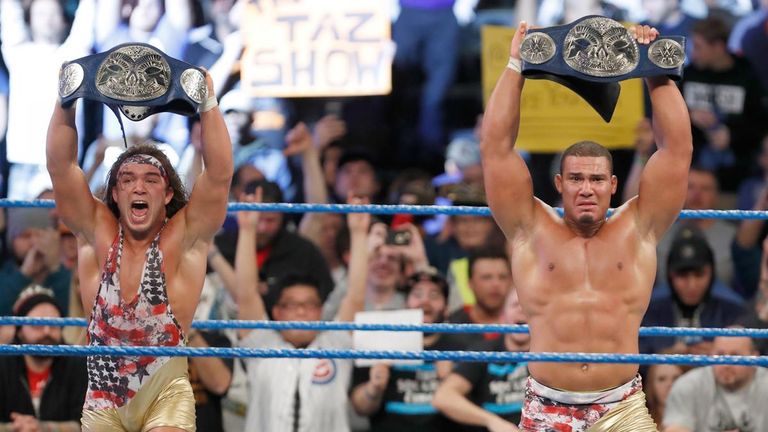 The emotional outpour from them after the contest replicated that of when they won their NXT straps, completing the full-circle of the story, and no matter which way you look at it, they won the titles after pinning a 12-time WWE champion in the shape of Randy Orton! That in itself is a testament to how strong this tag team is, and now that their foot is firmly on the accelerator I can't see them hitting any troublesome obstacles soon as the pair look destined for stardom as a team and hopefully beyond as their quality between the ropes
continues to shine.



Rating: B+



Apollo Crews – Debuted 4th April
For every winner, there unfortunately has to be a loser, and since stepping up to the main roster, Apollo Crews has sadly been a loser. He was only in NXT for a short amount of time and whilst he is an athlete of the highest level, he still appears to be missing a character so it's hard to blame fans for not being behind him; why should we care about him or than the fact he does cool moves? Hopefully they give him something more interesting to do than
be just another guy on Smackdown, the dude has talent.
It hasn't all been bad for Crews as he first dominated the Social Outcasts on Raw, beat Sheamus at Money in the Bank and even got an IC title shot against Miz at Summerslam – the issue instead came from the fact that none of his matches were particularly special and following an awfully botched showing against Jericho, Crews fell way down the card and is now mainly working Curt Hawkins in dark matches. What a fall.
Hopefully the next 12 months will be much better for him, maybe he can turn heel and move up the card, maybe he can perform to the high level we hoped to see, whatever goes on though, please WWE give him a bloody character, he's bland as dry toast right now. If not, a return to NXT might be a better move, so long as it doesn't knock his already dented confidence even more.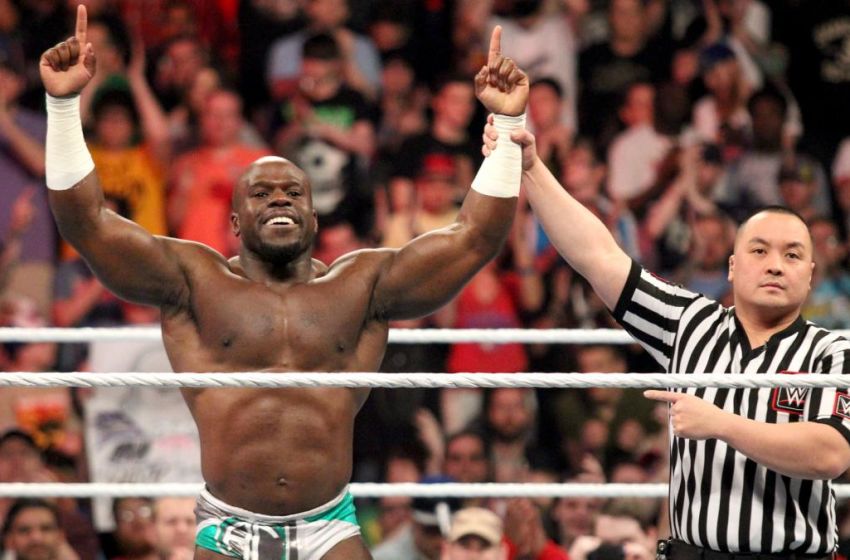 Rating: D-
Baron Corbin – Debuted 3rd April
Making his debut at Wrestlemania and winning the Andre the Giant Battle Royal on the show was always going to give Baron Corbin a jumpstart to his main roster career and whilst things got a little wayward in the middle, he ended 2016 strongly as his continues to cement himself as Smackdown resident monster.
After feuding with Dolph Ziggler for what felt like an eternity of subpar matches he broke away and really picked up a head of steam as he dominated Kalisto in a thoroughly enjoyable chairs match before getting his first world title opportunity on the final Smackdown of the year against Ziggler and AJ Styles. Going from developmental to a World title match in 12 months, that's pretty damn impressive.
I'll go out on a limb and say that Corbin will hold a singles belt in the coming year, maybe not a top belt, but a belt nonetheless. He could really benefit from a run with the IC or US championship in order to move up the card so that would be the best route of action for the metal-head. Keeps your eyes on him though, the big man is surely gearing up for another great annum, he's earnt it after all, and who knows, maybe he will get on the Smackdown
Survivor Series team next year...
Rating: B
Bayley – Debuted 22nd August
Bayley first debuted as a surprise tag partner to Sasha Banks at Battleground as the twosome defeated Charlotte and Dana Brooke (we will get to her later); Bayley got a giant pop that night and got a similar one upon her official Raw debut after being introduced by Mick Foley. She was a readymade star in NXT and the audience treated her as such, hopefully it is a moment she, and her supporters, will cherish forever.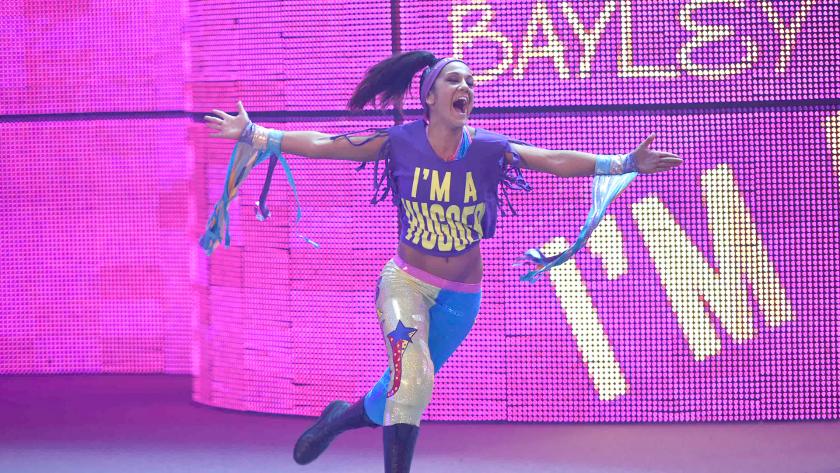 Unfortunately, that seems to have been the peak for her main roster so far as she was forced to take a firm backseat as Sasha and Charlotte competed in arguably the best WWE women's feud of all time. Recently however she has advanced, and whilst her promos have been shoddy at best, her Survivor Series victory and wins over Charlotte in non-title matches has added fuel to her fire – almost like a reverse Alexa Bliss where her wrestling is far superior to her talking.
When Bayley eventually wins the belt I'm sure the roof will blow off whatever building they are fighting in; hopefully holding a championship belt around her waist can boost her confidence when on the mic too and allow her to kick her 'rabbit in the headlights' promos. She's got a real strong future ahead of her for sure, I just hope WWE goes all the way with her as a top babyface.
Rating: C+
The second part of our look at the NXT Class of 2016, will be available from 6.30 GMT tomorrow and will feature Carmella, Corey Graves, Dana Brooke and Enzo & Cass. Part 3 will be uploaded at the same time on Friday, looking at Finn Balor, Mojo Rawley, Nia Jax, Sami Zayn and The Vaudevillains.
Words - Thomas Brady
Images - Thomas Brady
Editor - James Marston
Find Us